A fume hood offers a safe way to contain and ventilate hazardous fumes. Wet chemical processes often call for the use of a fume hood. Industrial chemical fume hoods are used in a variety of applications, from laboratory chemical research to full-scale manufacturing with wet chemical processes like semiconductor wafer processing, passivation, and part etching.
Typical construction materials for industrial fume hoods depend on the chemical handling properties required for the application, but commonly can include: polypropylene, PVDF, Teflon® / PFA, or ECTFE (HALAR®). Lab fume hoods can be as simple as polypropylene polymer-based tanks with an enclosure to contain and ventilate vapors from the manufacturing or lab process.
Below are a few examples of systems built for customers in various applications and industries like: semiconductor, medical device, and aerospace.
Fume Hood for Wet Chemical Processes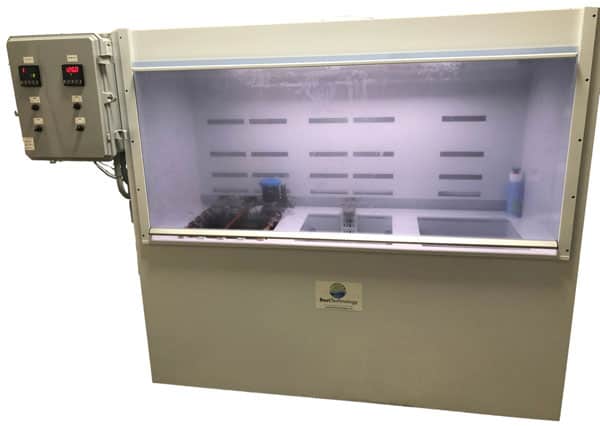 This fume hood is constructed of polypropylene. Air channels built into the enclosure connect to customer-supplied blowers and ventilation to process fumes through facility exhaust.
Best Technology offers a full line of custom polypropylene fume hoods. Our well-ventilated process enclosures protect machine operators and your manufacturing floor from chemical fumes.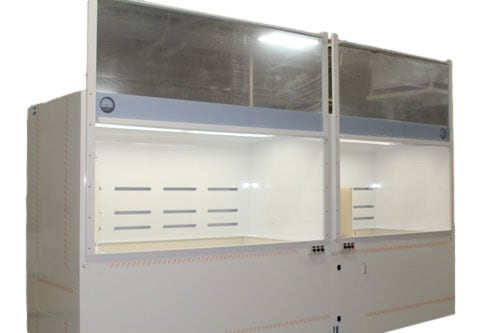 System includes large integrated PVDF tanks with water, air and nitrogen guns and magnehelic pressure gauge for ensuring proper ventilation requirements.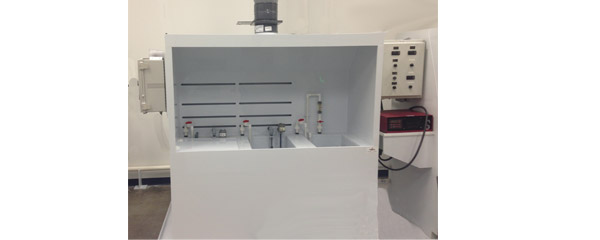 System includes rear tank venting on two tanks and fresh water rinse in the third tank.
Multistage Wet Process Fume Hood with In-Tank Heat and Circulation Pumps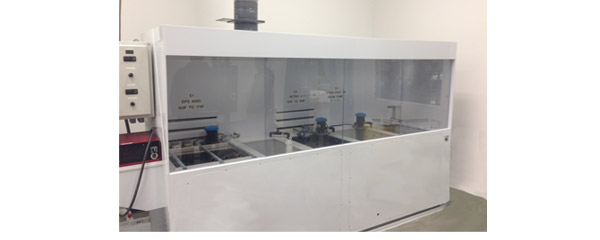 System includes rear tank venting exhausted from top of system, with integrated rectifiers for electropolishing and pumps for electrolyte circulation. Example process steps for this fume hood include:
Surface Preparation: Clean and Rinse
Electropolishing
Boil-Off Dead Rinse – Removes the drag-out electrolyte from the workpiece and reduces electrolyte waste
Nitric Acid Neutralization
Final Rinse.
Chemical Etch Wet Bench / Industrial Fume Hood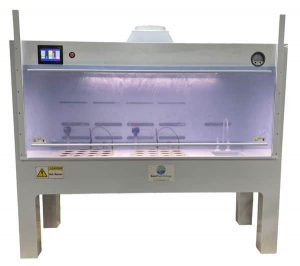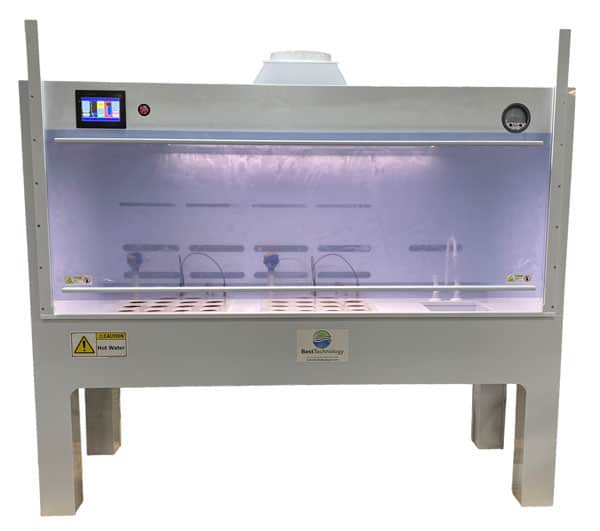 Common Applications for Industrial Fume Hoods
Medical device stent polishing and deburring of stainless steel and cobalt chrome
Industrial, aerospace and medical device stainless steel passivation per ASTM A967
Printed circuit board and silicon semiconductor photoresist stripping using chemistry like ACT970 etch residue remover and others
Common Configurations
Since fume hoods are made from highly customizable materials like polypropylene and PVDF, as well as Teflon® / PFA, and ECTFE (HALAR®), Best Technology is able to easily build a fume hood to fit customer-specific wet chemical process and lab requirements.
Ready to expand your wet chemical processing capabilities? To get your project started, contact an industrial fume hood expert at Best Technology to discuss your project and receive a free quote.