Passivation equipment adds corrosion resistance to stainless steel and other metals through a chemical surface treatment. A typical passivation tank system includes separate tanks for washing, rinsing, passivating and drying parts. Quality passivation systems ensure repeatable, stable passivation of stainless steel that is easily validated to regulatory and industry requirements.
Best Technology is the industry's leading supplier of passivation equipment and passivation systems for passivating stainless steel. Every passivation tank and piece of passivation equipment is designed around the customer-specific application and industry specifications.
Types of passivation systems include:
Passivation Equipment for Every Application and Part Size
Best Technology offers a broad range of passivation equipment and tank sizes. Our passivation systems can handle a wide variety of chemistries, part sizes and throughput requirements.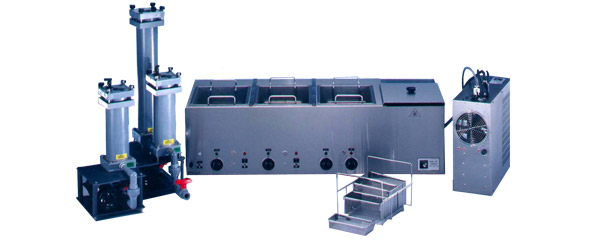 Our multi-tank ultrasonic passivation system combined with our hot air dryer make an effective passivation line by housing heated cleaning solution, cascading DI rinse water, citric or nitric acid passivation solution, and a final cascading DI rinse water with a final hot air drying step.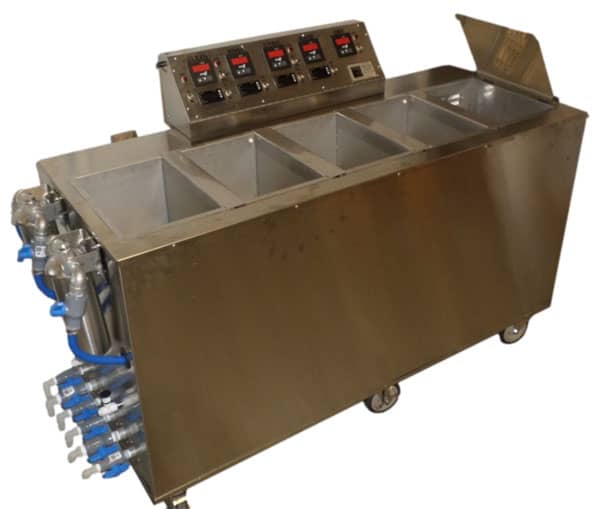 Our multi-tank ultrasonic passivation systems are also available as console units. With a console system, the bench is built-in. And the casters on our console systems make them portable, so they can be wheeled from one manufacturing cell to another if needed. Console systems allow for a wide range of custom sizes for a custom all-in-one passivation system tailored to the specific application.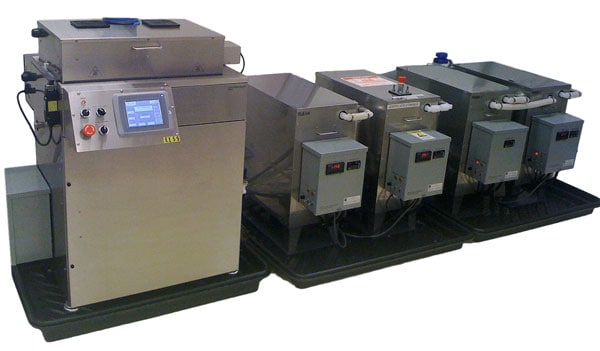 Our automated ultrasonic nitric or citric acid passivation systems clean, rinse, passivate, rinse and dry by moving the fluids from heated storage tanks into a single ultrasonic process tank, rather than moving the parts basket through a series of tanks. Modular heated storage tanks complete the system for re-use of detergents and rinse water. This system configuration eliminates operator interaction, variability and exposure to chemicals. This unique system design can save up to 50% of passivation equipment cost vs. traditional multi-tank setups with overhead index automation/robotics.
The small 3.5 gallon benchtop automated ultrasonic passivation system (nitric or citric acid) is an ideal fit for passivating small stainless steel parts in cellular manufacturing environments such as medical device manufacturing, aerospace manufacturing, machine shops and job shops.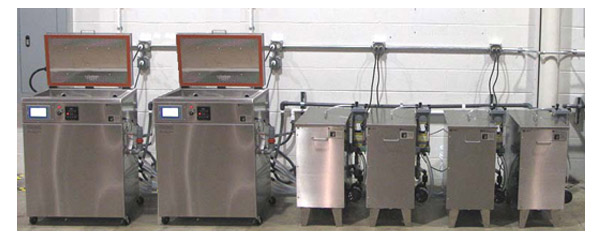 For manufacturing processes which require higher throughput or lower cycle times, the dual processing automated passivation system uses two processing units sharing the same storage tanks, which effectively doubles the system throughput. This expansion allows for growth in capacity without the purchase of a completely new passivation system.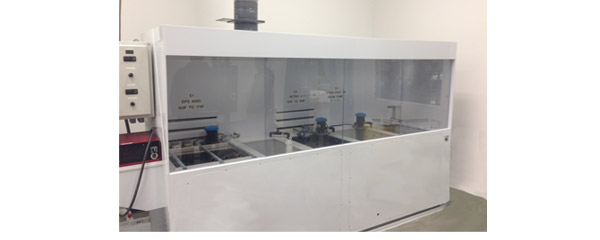 For wet chemical processing applications which require complex combinations of chemistries, heavy ventilation and containment, the passivation fume hood is used for nitric acid passivation of stainless steel, titanium and other metal parts. Typical construction materials include polypropylene, PVDF, PVC-C or others, depending on the chemical handling properties required for the application.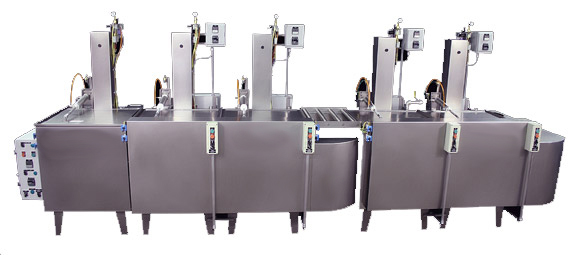 Agitated immersion passivation systems use a simple yet ruggedly designed, pneumatically-powered reciprocating platform to agitate parts in the water, solvent-based detergent or passivation acid. This action coupled with options like ultrasonics, high-flow filtration and pump turbulation, and oil removal systems ensure that all true oil and particulate are removed from not only the outside of your parts, but also the internal cavities and passages that other types of parts washing systems can't properly clean. Once clean, the same process is performed with nitric or citric acid to passivate parts.
Common Applications and Specifications for Passivation Equipment
Nitric acid passivation type 2, 3, 4 ASTM A967
Citric acid passivation type 1, 2, 3, 4, & 5 ASTM A967 using Stellar Solution's CitriSurf®
Passivation Specifications: ASTM A380 – Practice for Cleaning, Descaling and Passivating of Stainless Steel Parts, Equipment and Systems, ASTM A967 – Specification for Chemical Passivation Treatments for Stainless Steel Parts (based on US Defense Department standard QQ-P-35C) – one of the most common passivation specifications, AMS 2700 – Passivation of Corrosion Resistant Steels, AMS-QQ-P-35 – Passivation Treatments for Corrosion-Resistant Steel, ASTM F86 – Standard Practice for Surface Preparation and Marking of Metallic Surgical Implants
Cleaning and passivating of parts with lots of internal passageways like casting and cylinder blocks
Applicable Passivation Process Case Studies
Passivation Equipment & Process FAQs
No questions matching current filter
See also our page on Automated Passivation Systems FAQs.
Excellence in Passivation Equipment
From initial contact to our continued support and service, Best Technology offers over 30 years of industry expertise that can be leveraged to determine the best solution for your passivation system applications.
Contact a passivation equipment expert to learn more about how you can add a high-quality passivation system to your manufacturing workflow.