Heated Parts Washer Description
Best Technology is proud to offer agitated immersion heated parts washers designed for the removal of oils, chips, and particulate from a wide range of components. Our heated parts washers utilize water-based detergents and environmentally safe solvent chemistries.
Single Tank Heated Parts Washer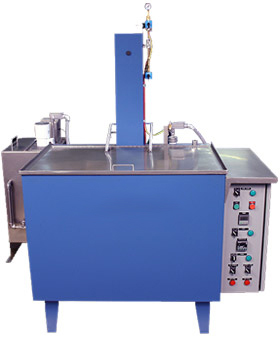 Video: Agitated Immersion Heated Parts Washer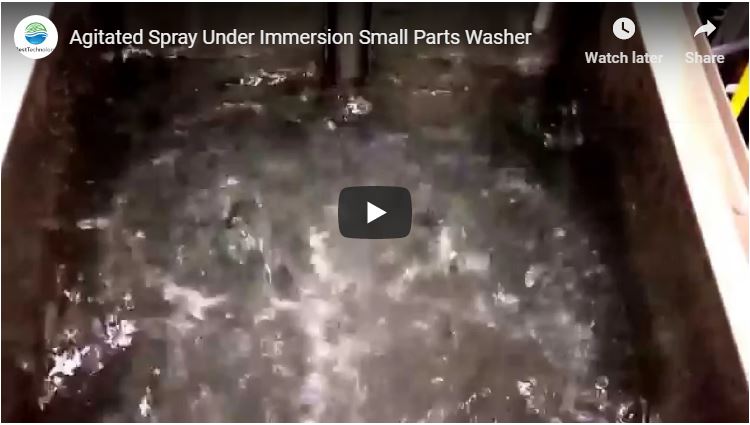 Immersion parts washers feature parts cleaner tanks that use a simple yet ruggedly-designed, pneumatically-powered reciprocating platform for agitating parts in the water-based part washer fluid. This action coupled with options like ultrasonics, high-flow filtration and turbulation, and oil removal systems ensures that all oil and particulate are removed from not only the outside of your parts but also the internal cavities and passages that other types of parts washing systems can't properly clean.
Modular Design for Heated Parts Washers
Spray-under immersion washers are fully modular. Placing multiple parts cleaning tanks side by side allows for any application-specific configuration:
Wash, rinse, dry
Wash, rinse, rinse, dry
Wash, rinse, passivate, rinse, dry, etc. as shown below.
Multi-Station Heated Part Washer: Wash, Rinse, Rinse, Dry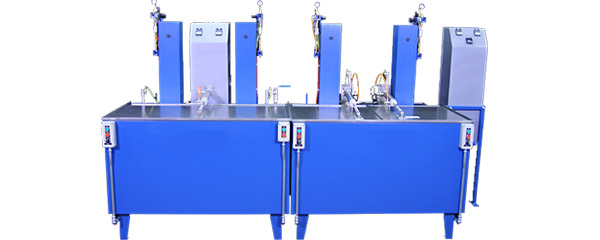 Video: Agitated Immersion Heated Parts Cleaner – Wash, Rinse, Dry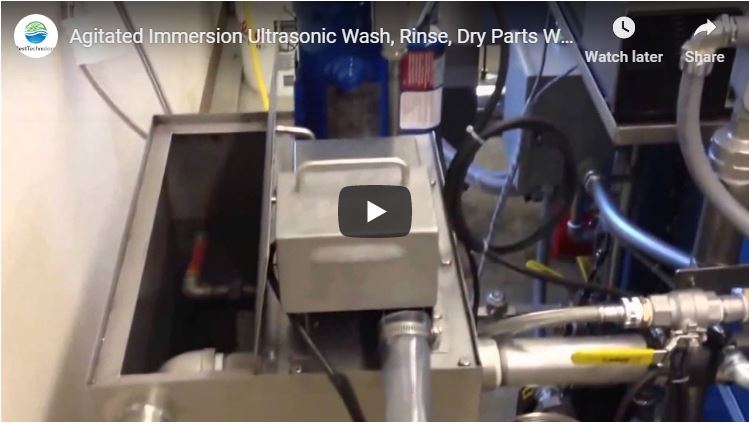 Common Applications
The superior part exterior and part internals flushing action makes our agitated immersion heated parts washers excellent for:
Removal of oil and chips from machined components, castings and housings
Removal of buffing and lapping compounds
Cleaning prior to welding, deburring, brazing, blasting or other post-process applications where surface cleanliness is critical
Precision cleaning prior to assembly or final packaging
General washing for maintenance, rework and/or remanufacturing
Engine rebuilding
Carbon, rust, ink and paint removal
Nitric or citric passivation
Phosphating or Alodine coating
FPI (Fluorescent penetrant inspection) – preclean, FPI dye penetrant inspection process, and post clean
Tube washing
Typical Configurations
We offer 9 standard configurations of heated parts washers, shown below, and custom-sized parts cleaner tanks up to 4000 lbs. load capacity and any working zone configuration. Whether you need a small immersion parts washer or a large parts washer, Best Technology has a heated parts washer that meets your needs.
Model Series
Weight Capacity (lbs)
Liquid Capacity (gallon)
Inside Working Zones (l x w x h)
Overall Dimensions (l x w x h)
16
150*
40
16″ x 21″ x 16″
21″ x 35″ x 68″
24
150*
60
22″ x 21″ x 16″
27″ x 35″ x 68″
30
150*
40
28″ x 17″ x 13″
33″ x 29″ x 57″
36
150*
90
34″ x 21″ x 16″
39″ x 35″ x 68″
48
150*
120
46″ x 21″ x 16″
51″ x 35″ x 68″
* optionally to 300 lbs.
36HD
500
165
34″ x 24″ x 20″
48″ x 46″ x 80″
48HD
500
225
45″ x 31″ x 20″
60″ x 52″ x 80″
60HD
1000*
445
56″ x 31″ x 27″
72″ x 54″ x 97″
72HD
1000*
585
69″ x 36″ x 27″
84″ x 60″ x 97″
* optionally to 2000-4000+ lbs.