Electropolishing Machine Descriptions
Our electropolishing equipment polishes metallic parts to ensure repeatable, micro-tolerance surface roughness finishing for medical equipment, aerospace parts, and industrial parts. Electropolishing reduces the expense and surpasses the quality of standard mechanical polishing.
Our small tabletop electropolishing equipment is especially well-suited for laboratory use and prototyping of small- to medium-sized parts, medical instruments or jewelry. Tank volume for tabletop electropolishing equipment typically ranges from 0.5 to 2 gallons, but with an external tank can be as much as 15 gallons. Also called benchtop electropolishing machines, these units are available with either 24-volt or 48-volt power supply rectifiers.
1085

299

 399

782-EP with 2 ultrasonic cleaning tanks

To learn more about how electropolishing machines produce a bright, corrosion-resistant, highly-polished surface, see What is electropolishing? How does electropolishing work?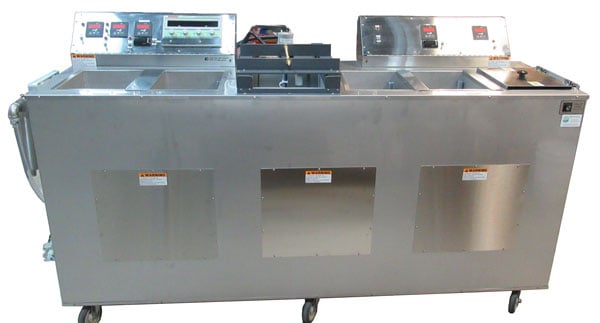 Visit our Electropolishing Equipment page to explore the many types of electropolishing machines that we offer.
Common Applications for Tabletop Electropolishing Equipment
Medical device (stent, guide wire, leads, etc) electropolishing / deburring of stainless steel and cobalt chrome
Industrial stainless steel 300 series polishing to reduce surface roughness and burr removal
Polishing medical device, surgical, dental tools and other fragile, irregularly-shaped products
Ideal for electropolishing stainless steel, tabletop electropolishing machines are also effective for polishing and deburring cobalt chrome, brass, copper and other metals.
Common Configurations for Bench Top Electropolishing Machines
All electro polishing machines can be made with 24V or 48V rectifiers and have digital timers and temperature controls as options.
Model Series
Current Capacity (amps)
Electrolyte Capacity (gallons)
Tank Dimensions
(l x w x h)
1085
10
0.5
6″ x 6″ x 6″
299
25
1
12″ x 6″ x 6″
399
50
2
18″ x 6″ x 6″
782-EP
25
1
12″ x 6″ x 6″
The small size of a tabletop electropolisher allows it to become a portable electropolishing machine when needed to move from one area of a plant floor to another.
Electropolishing Machine Price and Ordering
For electropolishing machine price and ordering information, contact our equipment sales department using our web contact form, or call us at 612-392-2414, ext. 1.